I'm thrilled to have Patti LaValley of
Patti's Dolls
as my first interview on the blog and my first doll artist interview. I found Patti when doing a web search for people to invite to the blog. So glad I stumbled across her!! Thanks so much, Patti, for doing this interview. I want to make sure you take some time to check out Patti's various places in cyberspace. You will truly enjoy her sites. They are as lovely to look at as her doll creations.
CLICK HERE
for Patti's website. She also has a blog which you can view
HERE
. She teaches doll-making classes. Information about her classes can be found
HERE
. And she has a lovely Etsy shop which you can view
HERE
.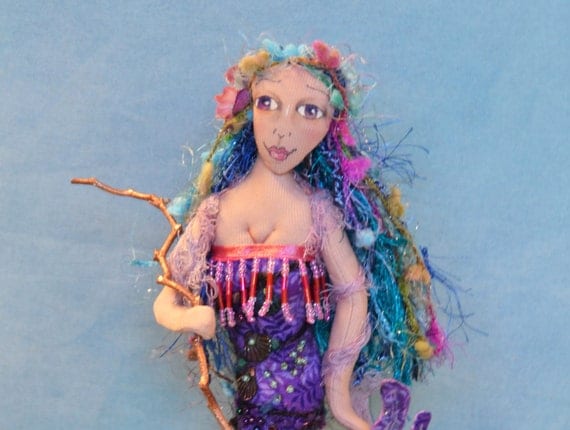 N2O4Dolls: Tell us a bit about yourself.
My name is Patti LaValley and I live in the country near the tiny picturesque town of Rainier, Oregon. I'm a self-taught cloth doll artist, using my skills in drawing and painting to create my character art pieces. I have been involved in many types of arts and crafts throughout the years.
N2O4Dolls: Obviously creating dolls is your passion and your immense talent is quite evident. Tell us about how you got started creating dolls, how long you've been doing it, and where you find inspiration.
I discovered cloth doll making about 30 years ago after I inherited some vintage patterns from my dear friend Grandma Morgan, a 103 year old doll maker. Grandma Morgan has since passed away but I will be forever grateful for her legacy to me, a collection of old patterns. My passion for dollmaking developed through a love of textures and colors within a piece of fabric. I like the diversity that dollmaking allows, too. To me, the ultimate form of expression is accomplished when all my skills can be incorporated into one art form. I love to make all types of dolls, fantasy, painted folk dolls, lovely ladies, and ethnic dolls. I often rely on nature for found objects to be incorporated into my dolls. Many of my dolls are one-of-a-kind pieces that have been shown in galleries in the Northwest. When I bring a smile to someone's heart and face through my dolls I feel I have accomplished everything!
N2O4Dolls: Do you have a creative space dedicated to your craft? Do you have any favorite doll artists who have inspired you, or even artists who work with other media?
I love meeting other dollmakers at shows and gatherings, where I have made many new friends. I teach cloth doll workshops for doll clubs and events, and at my home where I have a wonderful studio that overlooks Mt. St. Helens and Mt. Rainier in Washington.
(CLICK HERE
to see photos of Patti's studio.) Students are welcome to stay at my home for workshops. I also teach online classes and have a line of about 30 patterns. I have had dolls published in several magazines, Doll crafter, The Doll, Dolls United, The Cloth Doll, and Soft Dolls & Animals and Art Doll Quarterly as well as Susana Oroyan's book,
Dolls of The Art Deco Era
.
I also love to enter dollmaking challenges, and this year my piece Oceanna won second place in the very competitive Hoffman Challenge. You can see her
here.
My work has been inspired by so many, but to mention a few who have inspired me in my journey would be Judi Ward, whose online classes helped me take my skills to the next level. The late Susana Oroyan whose books and friendship have been a source of great inspiration.
N2O4Dolls: Do you collect dolls? If so, what type of dolls do you collect? Tell us about your
collection.
I only collect cloth dolls, and even that is limited as I live in a small house, and in a very rural area with gravel roads. Most of my dolls are draped with plastic, and are kept in my studio. If somebody comes to visit, then the plastic is removed so the dolls can be admired. I often do trades with other cloth doll artists to add to my
collection. Lack of space limits the growth of my collecting.
N2O4Dolls: Please share a few childhood memories that include dolls. This could include dolls you owned, dolls you wanted, dolls in books, favorite gift that was a doll, etc.
My first doll was a cloth doll made for me by my grandmother. She was a rag doll type, with embroidered face. I still have her, although she no longer has her dress. I must make her a new dress, it's on the list!
The next doll I had in memory was a Raggedy Ann. I got her for Christmas when I was 3, and my sister, who was four, received Raggedy Andy. She was quite jealous that she did not receive Ann from Santa, so talked me into cutting her open to get her candy heart out. (Of course, she DID NOT cut open her doll!) I was devastated when I pulled the stuffing from her chest and there was no candy heart! My grandmother lovingly re-stuffed and stitched her back up for me.
N2O4Dolls: How has creating dolls inspired your creativity in other areas?
Cloth dollmaking is such a diversified art form, and it is an art form. I am continually learning new techniques, re-inventing old ones, and creating some of my own. There is always something new to learn, and my journey has taken many paths, which include learning skills with paper mache, polymer clay, leather working,
felting, free-motion embroidery and wood working, just to mention a few.
N2O4Dolls: Anything else you'd like to share with us?
If I could offer one piece of advice to new dollmakers, it would be nurture your muse, and that inner child within, you will eventually create your own point of view in your art. And most of all, don't forget to play!